Paragraph intro
Ocean County Beach #1: Island Beach State Park
Island Beach State Park is a New Jersey state park located just south of Seaside Park on the Barnegat Peninsula in Berkeley Township, Ocean County, New Jersey, United States. The park is operated and maintained by the New Jersey Division of Parks and Forestry.
It's one of the few undeveloped barrier islands covering 3,000 acres. Activities include fishing, swimming, sunbathing, and surfing. The state's largest osprey colony, as well as peregrine falcons, wading birds, shorebirds, waterfowl, and migrating songbirds, are found here.
Beach #1 has a bar with alcoholic drinks as well as snacks. They have indoor showers and changing rooms as well as outdoor showers to rinse off. These facilities are open until 7 PM with the last entry at 6:45 PM. Beach swimming closes at 6 PM (lifeguards depart).
This beach is super clean and well maintained.
Price: $6 per car Weekdays/$10 per car Weekends NJ Resident
Ocean County Beach #2: Holgate Beach
At the southernmost tip of LBI, this tiny, mostly residential stretch of Long Beach Township is about as far off the beaten path as you can get on this popular barrier island. A few minutes from bustling Beach Haven, Holgate's awesome view (on a clear day) of the Atlantic City skyline alone is worth the drive (or bike ride).
Better yet: Grab a late breakfast or casual lunch at the family-owned Bowker's South Beach Grill, Holgate's sole eatery and market. ("The competition keeps us number 1," jokes Eileen Bowker.) Deli favorites include hoagies (Holgate Heros), cheesesteaks, and arguably the best bacon-egg-and-cheese bagel on the island. Open daily through Labor Day, Bowker's also rents kayaks and stand-up paddleboards and sells beach chairs, towels, and umbrellas.
Holgate's beaches are easily accessible and far quieter than LBI's hot spots. Lifeguards are on duty during the summer season, and beach badges are required. There's plenty of parking—and restrooms—in the lot at the south end of Long Beach Boulevard.
At its southern end, Holgate gives way to a unit of the Edwin B. Forsythe National Wildlife Refuge. The protected area is closed through August 31 (nesting season for endangered birds) but is open September 1–March 31 for fishing, hiking, and wildlife observation.
Ocean County Beach #3: White Sands Beach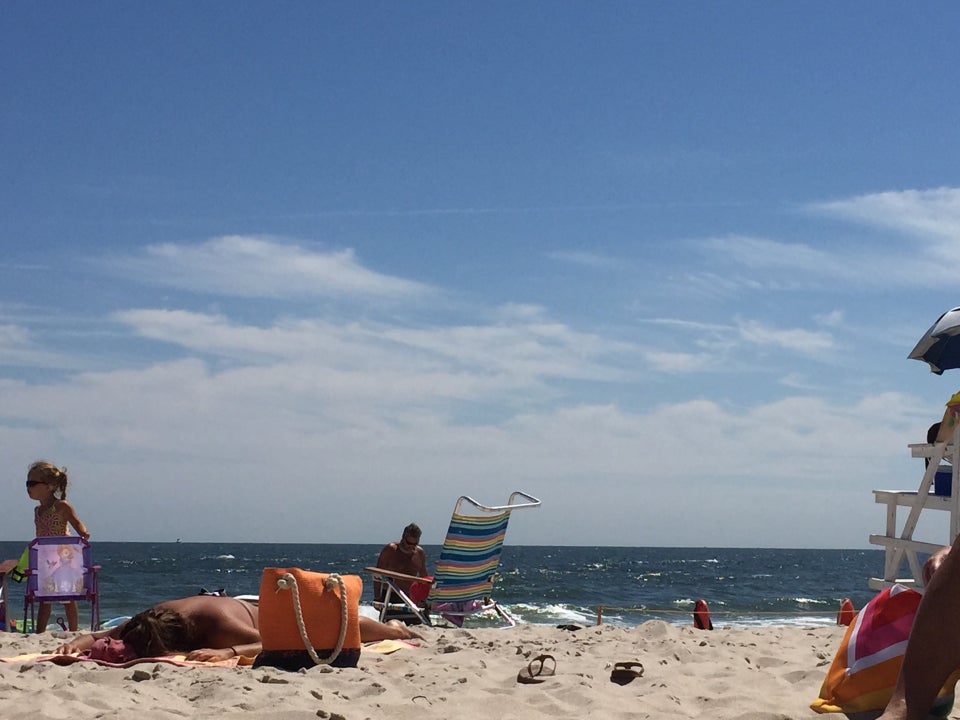 There's no boardwalk. No concession stands. No rides. No games.
But if you're looking for a quiet, clean oceanfront beach, White Sands Beach in the South Seaside Park section of the township is a good bet.
This out-of-the-way beach is actually in Berkeley Township, right near the entrance to Island Beach State Park. It runs for four blocks, from 20th Avenue to 23rd Avenue.
Restrooms and an outside shower are available. No food is permitted on the beach.
Ocean County Beach #4: Brick Beach 3
Brick Beach III is located at 440 Route 35 North. The beach has restrooms, showers, concessions, and lockers. Windward Beach is located at 265 Princeton Avenue.
Ocean County Beach #5: Ortley Beach
Ortley Beach is an unincorporated area of Toms River, New Jersey. It is also known as Dover Beaches South. Like many of the ocean communities found on Barnegat Peninsula, it is not that large. Ortley Beach is less than a square mile in area and is bordered by Lavallette to the north and Seaside Heights to the south. There are ~ 1,600 full-time residents – and each is outnumbered many times over during the busy summer tourist season.
Ocean County Beach #6: Manasquan Beach
A mile-long stretch of sand, including an accessible beach, plus areas for surfing, fishing & sports. This beach is super quiet and family-friendly.
Ocean County Beach #7: Funtown Beach
Funtown Beach is a family-owned establishment. Come with your family and enjoy 500 feet of private beach. Just bring yourself and your drinks and they'll take care of the rest. They offer umbrella and chair rentals at very affordable prices as well as Seasonal Badges to make it so easy to come and enjoy.
conclusion