Dust off your garden gnomes! Spring is just around the corner, and gardeners across the country are counting down the days. Here are 3 steps you can take right now to prepare for the growing season.
Plan for success
Whether your passion is growing your own food, or you prefer ornamental landscaping, or both, creating a plan is your first step. Take stock of last year's successes and failures and adjust this year's plan accordingly.
There are many garden-planning tools and apps available online to help you:
Once you have a plan, make a list of what you'll need to purchase. Seeds or seedlings? Will you need soil amendments? Which plants have you been eying in nursery catalogs over the way-too-long winter?
If you're unsure of how much soil you'll need, check out the soil calculator online at Gardeners.com.
You're only as good as your tools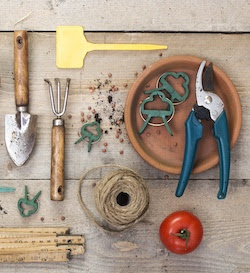 If you're like many gardeners, your shovels, shears, and other tools have been sitting in the shed since last season and likely need a little TLC. If a deep clean is in order, a soapy rinse and soak paired with a scrub brush should do the trick. Wooden handles? Give them a light sanding to help remove splinters.
Pruning shears are the workhorses of any garden, so ensure that yours are in top shape before spring rolls around. To remove rust, soak shears in white vinegar overnight, then scrub with a wire brush. Dried sap? Use warm water and dish soap to loosen it up. Dull blades? A file or whetstone will get them sharp again. Disinfect your shears and other tools with rubbing alcohol or a bleach solution.
Clean your containers
Planning to reuse last year's flowerpots? They, too, will require a good scrubbing and disinfecting.
Dump out any soil and debris from each pot and grab that wire brush. Fill a bucket with warm, soapy water and scrub the pots inside and out. Create a 10 percent bleach solution and soak each pot for about 15 minutes; bleach helps to kill any unwanted organisms. Rinse with water and set outside to dry.
Get these chores done now and you can hit the ground running when the warmer weather rolls around. I would love to see pictures of your garden creations!