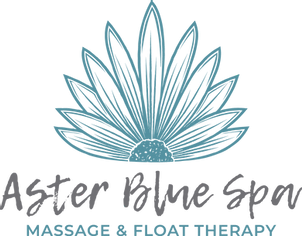 Aster Blue Spa is a privately owned business that began with the intention of making Massage and Float therapy a more affordable way to find rest and recovery.
No sales pitch to start or end your appointment, memberships are an option, not required. Providing packages built for the customers' needs allows the freedom of choosing what you want when you want it. No need to be worried about hidden additional costs or unexpected monthly withdrawals.
Aster Blue Spa combined Float Pod Therapy with Massage Therapy to encourage balance. It is the most purposeful way to ease your body into a restorative state.
Both Float and Massage Therapy break up tension in our muscles, release toxins and increase circulation. Whether you float or massage first, combining these 2 modalities may leave you walking on clouds!
​Tracy Lynn, Owner
Tracy has a great deal of experience in Massage and personal wellness. As a teenager, Tracy was diagnosed with Ewing Sarcoma, a type of bone cancer, in her right heel bone. The whirlwind of chemotherapy and choices of surgery took over and quickly placed Tracy in life-or-death decisions rather than normal teenage concerns. After opting for a Below Knee Amputation of her right foot, Tracy was provided an opportunity to receive Massage Therapy to assist in getting used to limb loss, phantom limb pain, the ability to fight off infections, and overall health in a heightened unhealthy time. Still going through chemotherapy, Massage became an integral part of treatment and it wasn't until Massage was pulled from the treatment regimen, did she notice an incredible difference in her response to chemotherapy, physically and emotionally.
Fast forward 25 years, Tracy not only survived cancer but has incorporated Massage Therapy into her everyday life, for many years going twice a month until she went back to school and became a Licensed Massage Therapist. It was more recent that Tracy was introduced to Floatation Therapy. Having already been a huge proponent of Epsom Salt Baths for issues with hips due to offsetting prosthetic legs, muscle aches and pains from an active lifestyle, and an overall sense of 'taking a time out for relaxation and de-stressing, Floatation Therapy was the ultimate in supporting the benefits of Massage Therapy to reduce the amount of pain medication/relievers and increase emotional well being. Let's face it, when you are in less pain, you are emotionally in a better place.
Tracy built Aster Blue Massage & Float Therapy Spa with this in mind, hoping to provide alternatives to the usual 'take a pill' rather than take some time. Providing her community an opportunity to feel the benefits of Massage & Float Therapy the way it has and continues to help her is why Aster Blue came to be.
Get in touch today!
609-290-9324